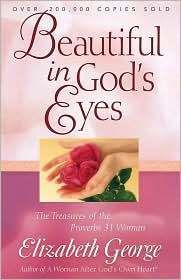 This week we took a look at trust.
The one thing that stood out to me in today's study was this little factoid:
"Throughout the book of Proverbs, trusting in any person or pursuit other than God equates to foolishness. The one exception God makes in Proverbs is in
verse
31:11. In this verse a man's profit is the result of the value of his wife, in whom he trusts."
Ms. George points out that God wants us to be women whom our spouse can trust just as he trusts in God. First of all, this is kind of scary - - I mean, those are big shoes to fill. One gal pointed out that we women have to trust in God and rely on Him to make us that trustworthy, because we aren't capable of doing it in our own power.
George's commentary expounds on the word "heart" from the verse. She says the Hebrew word for heart actually refers to the mind where doubt and anxiety originate. I had never thought of it that way but it makes complete sense. I mean, an anxiety attack feels like a heart attack. If people around us don't trust us, it causes anxiety. In my single life, this virtue can be cultivated in the work place. With deadlines and many moving parts to what I do, if I don't give off the perception that I have it under control - - than that causes my supervisors to stress out. I've been struggling giving that perception at work lately - - and I can tell by all the questions my manager asks me that she is lacking in confidence in me.
The chapter listed 10 areas of daily life where we are to
develop
trustworthiness. Those areas are:
Money
Children
Home
Reputation
Fidelity
Emotions
Happiness
Wisdom
Conduct
Love
My strengths are reputation and fidelity, I think these go hand-in-hand. I would never cheat and I know I would never engage in anything that could harm my spouse personally or professionally.
My weaknesses are money, home and happiness. I definitely think I need to work on having more savings and less debt. At home, I could be a lot more organized, it isn't exactly an oasis for me sometimes. I know if I were married, a spouse wouldn't want to come home to a crazy, messy home. So I need to work on this. Finally happiness, this kind of ties into last week with being a jewel. I'm not very sparkly and am far from a fountain of joy. I need work on choosing to be more up beat and positive about things.