The museum has entered its big fundraising push for Phase 2. They need to raise $85 million dollars in order to add additional gallery space to complete the circle.

Pictured below is the architect's rendering of what the museum and grounds will look like once complete. That big cheese wedge looking thing will be a large format theater that can seat 400 people. That will surely come in handy for OCS graduations as well as other special events. I'm envisioning movie nights with Marine Corps themed movies, for instance the actual documentaries shot by the Marine corps during WW2 and later, or real movies such as Sands of Iwo Jima.

Below is the floor plan. It really doesn't look like there will be much room for Post Vietnam - - I mean that covers a lot of years. I'm thinking they are going to have to start thinking about a supplemental building to cover 21st century conflicts. The BIG thing we need, that they have added, are additional restrooms.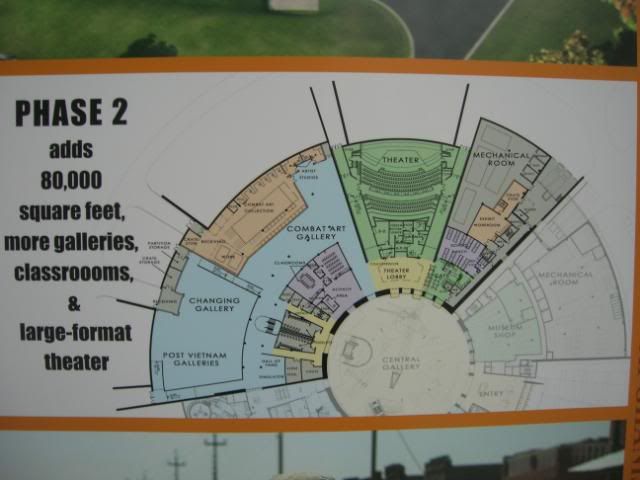 Phase 1A build out begins this summer. They have submitted RFPs (Request for Proposals) for the construction portion of that work. They have also started setting up the temporary buildings that will house the docent work room, Marines' office and workroom, and exhibit staffs' office space. The new galleries going up in Phase 1A are: Halls of Montazuma (1775-1864), First to Fight (1866-1914), Every Marine a Rifleman (1915-1918). The gallery entitled, The Marines Have Landed (1919-1940) will be deferred until phase 2 is ready to be built.