Can I just tell you how excited I am about all the cool things going on at the museum this weekend!
Nothing special was planned in 2007, our "Shake Down Cruise", and our first Memorial Day. Memorial Day 2008 is a different story!
Docent Dave says "Visit the Museum You Magots!"
Saturday, the doors to the museum will open an hour early, yep at 0800 (8 a.m.) to welcome 500 plus bikers participating in Rolling Thunder on their way to DC. In addition to that, outside the museum entrance will be a display of custom-designed Marine Corps motorcycles. The bikes and the men who built these mechanical memorials honoring Marines will be on hand Saturday and Sunday.
This weekend also marks the opening of artist Tom Hubbard's traveling exhibit, "SEMPER FIDELIS: How I Met My Father". This exhibit will be located on the second deck of the musuem and is a multi-media show featuring 20 works of orginal art inspired by the artist's personal journey to learn about his father, a U.S. Marine killed in Vietnam. Hubbard traveled to Vietnam in 200 to trace his father's footsteps and documented the journey. His show will be on display at the Museum through July 7th.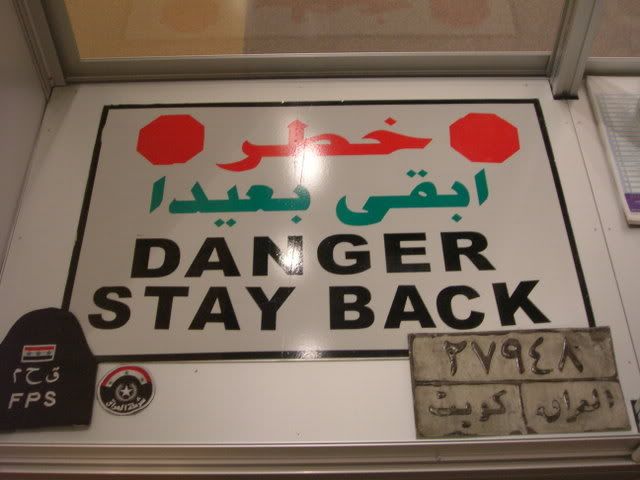 In addition to these two special exhibits, take some time to visit the Global War on Terrorism gallery, the museum recently installed cases to include micro artifacts as well as an unmanned aerial vehicle. I've already shared with you, in an earlier post, these new additions to the GWOT gallery. I wonder if they have any new photographs? Throughout the year, the museum has rotated in "fresh" combat camera photos of the conflicts in Iraq and Afghanistan.
I think its going to be an amazing weekend full of photo opportunities and hearing new stories, all of which I'll share with you here.